Planet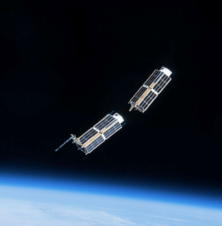 Planet designes and manufactrures huge fleet of nanosatellites called Doves. Planet's core products come from high-resolution satellite images that are offered as individual images (scenes) and mosaics. Raw data (scenes) are captured in 3 visible spectral bands at 3-5 m pixel size. The company declares that in 2016, with a full constellation of 150-200 satellites, they will be able to image the entire globe every day. Planet offers same-day data in three formats:
Unrectified product – 12-bit analytic product without orthorectification applied. Radiometric and flat field correction are made to account for radiometric and sensor distortion. Rational Polynomial Coefficients (RPCs) are available to transform unrectified data.

Analytic product – 12-bit data delivered in a orthorectified 16-bit GeoTIFF file with no visual color-corrections. It is designed for analytical and scientific applications.

Visual product – orthorectified 8-bit GeoTIFF that has a color curve pre-applied in order to be more readily useable in most visual analysis and display applications.
Spatial Resolution

Multispectral: 3-5m

Sensor Bands

Blue: 420-530 nm

Green: 500-590 nm

Red: 610-700 nm

Revisit frequency

1 day

Capacity

150 milion km2

Dynamic Range

12 bits per pixel

PlanetLabs


Specification PlanetLabs
Gallery